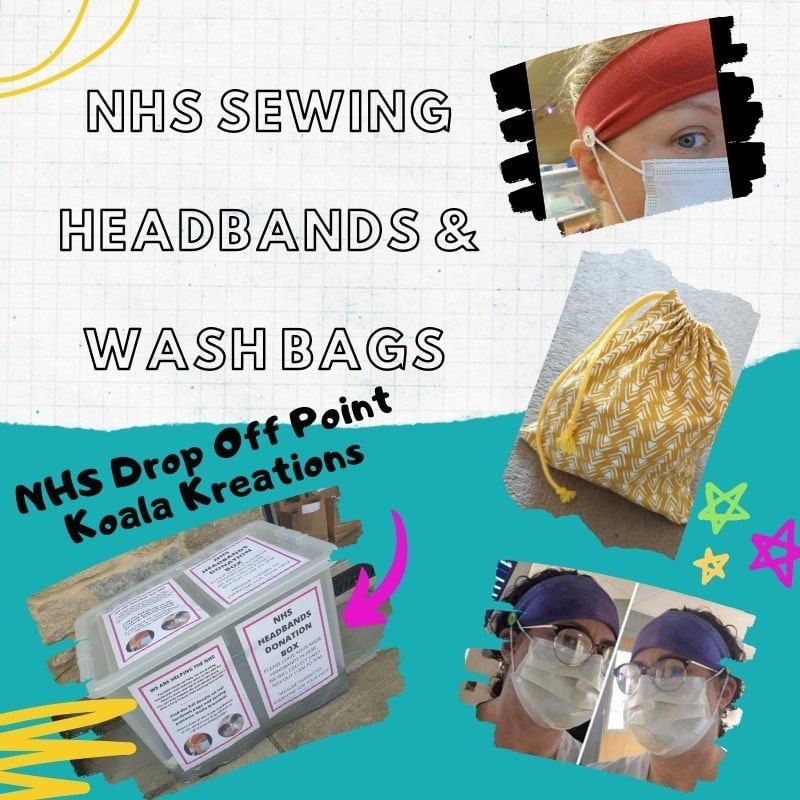 We have now slowed down our NHS sewing of Headbands and Drawstring wash bags as we've fulfilled all our requests. So far we have made over 2000 wash bags and 1200 headbands. A massive THANK YOU to all our local sewers for joining our BIG SEW.
Koala Kreations has DONATED 75 metres of fabric to be made into headbands and drawstring wash bags for our NHS. More and more people are using up thier fabric stash to help this great cause to.
We have donated all made headbands and wash bags to 25 health care professions, some of those are Southmead Hospital, Bristol Children's Hospital, BRI, District Nurses, Bath RUH, Rehab support workers, Midwifes Gloucestershire, Local Midwives, mental health, GP surgery and many many more.
You can contact me here or via social media if you need further information.
Patterns are below for ideas and help. We do not have an official pattern for any of the items.
Drawstring Wash Bag (Tutorial now on our Facebook Page) - You will need Cotton Fabric or Polycotton ( please pre wash if you are using old bed covers)
Headbands - Stretch Fabric (jersey) around 20 cm depending on which pattern you are following, 2 buttons (some patterns use elastic and cotton fabric)
Headband pattern ideas
https://ashleymakesthings.wordpress.com/2020/03/31/headbands-for-healthcare-workers/?fbclid=IwAR06Akbo9SHQdl0QXyaBOm4EXnI4g0ROyTD6v379i-NDYf8BjFOTmNyU14U
for the above pattern please use 8 inches of elastic if you are using a woven fabric. 6 inches if using a stretchy fabric.
https://secondstarfabric.co.uk/free-headband-pattern-and-tutorial/?fbclid=IwAR0wX_iMhaYFt0XrXK6aOY7LQMED1TA9u9NTDIf3_3B6l48WcWLwi5gPiTY
http://www.happytogetherbyjess.com/double-sided-fabric-headband-pattern/?fbclid=IwAR0Vz6LjHumfQD9bYOufBMK8hMh-GR-ARUqOwRxPF67CY7n4SkaLqPc1phM
https://raincitypatterncompany.com/products/charlottes-knot-headband-pdf-sewing-pattern-baby-to-adult-sizes-pattern-pieces-only?fbclid=IwAR1sJN3jrpbg74Wed_wUuEufK2l7dr_6yXrb7y6mzFuBS9V8YfP29QJUp5o
THANK YOU
Lianne Owner Koala Kreations x